Pennsylvania's Busiest & #1 Birthday Magician For Kids In The Allentown, Harrisburg, Lancaster, Philadelphia, York Areas and Beyond.
Brief Client Listing & Resume
Testimonials for PA's Busiest Magician Eddy Ray
"Hi Eddy, I just wanted to shoot you a quick note of thanks. My son Spencer said that this year's party was the best he ever had! Thank you so very much for the personal touches you added for his skull theme and the skull theme goodie bags where a huge success! I greatly appreciate you taking the time and effort to make my son's party original just for him. I will with great enthusiasm pass your name along."

- Sheileen Wood – West Chester, PA
"Dear Eddy, Your presentation and ability to relate to the kids was everything I had hoped for! Thank you for making the holiday gathering with my children and their children so memorable. They will be talking about it for years to come!!"

- Maddie Zimmerman – Philadelphia Pennsylvania
"Eddy was extremely professional with how he handled everything from the first phone call to the follow up call all the way to the mailing he sent after the great performance. The kids loved the show and the adults enjoyed his magic and humor."

- The Owens Family – Douglassville Pennsylvania
"My son's birthday party was a hit!! Thanks to Eddy Ray, the kids could not stop talking about his Magic Show – something they won't forget for a long time!! Thanks Eddy!"

- Robin Oxenreider – Mohrsville Pennsylvania
"We enjoyed the show that Eddy Ray performed for us. All of the parents and children were talking about the show! He is an amazing magician. Thank you Eddy Ray. We will be seeing you again!"

- Coralee Quinn – Robesonia Pennsylvania
"Eddy kept the children entertained and was very good with questions and comments they made. Everyone was impressed and entertained. Eddy Ray will always be my #1 recommendation!"

- Kathy Hoffa – Boyertown Pennsylvania
"Eddy put on a fabulous show that was enjoyed by not only the 5 year olds, but the adults as well! Everyone is still wondering where the ketchup bottle went!"

- Jane Wiedinmyer – Wernersville Pennsylvania
"I would like to take this opportunity to "Thank You" on behalf of the first grade children at Wyomissing Hills Elementary Center. Your wonderful show was the highlight of the day for the children.

- Teresa E. Lord, R.I.F. Coordinator

"Your participation in our Annual Sixth Grade Medieval Fairwell is greatly appreciated. Thank you for entertaining our students with your special talents."

- Governor Mifflin Intermediate School PTO

"Thank you so much for being a part of the Eighth Annual Children's Peace Fair. It was a delight to watch you perform and interact with the children. You are very talented and you entertained us all, and made us laugh a lot."

– Church of the Brethren, Cheryl A. Williams (Founder)
"I want to thank you for coming to the house and sharing your magic with us and our friends. Everyone enjoyed your magic and it really added a lot to our farewell party."

- Eric & Cindy Bergstrom
"Thanks for a fun afternoon on a cold, snowy day! The members of the Amity Friendship Circle certainly enjoyed your fascinating performance! We're still wondering how, and where? Thanks again for taking this time from your busy performing schedule to entertain us. We wish you best of luck as a top rated magician!"

- Patricia Levengood, Amityville Church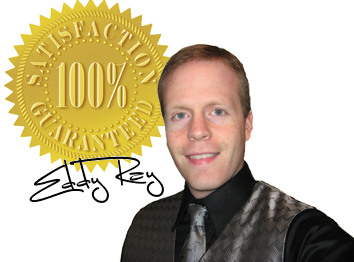 Call Now 1-877-297-7252 or email info@PennsylvaniasBusiestMagician.com for FREE Information & Price Quote. There Is No Obligation!

Pennsylvania Magicians 2010