Pennsylvania's Busiest & #1 Family Magician For Kids And Adults In The Allentown, Harrisburg, Lancaster, Philadelphia, York Areas and Beyond.
Pennsylvania Magician Eddy Ray is available for all kinds of events. Listed below are some popular entertainment packages with some details.
Strolling/Mingle Magic – Up Close & Intimate
This type of magic can be performed anywhere with no space or other special requirements. Take a look at some examples for this up close magical entertainment.
Family Reunions
Birthday Parties
Block Parties
Private Parties and Events
Virtually Any Event!
Onlookers will witness incredible things happening right in front of their very eyes, from signed cards appearing in their own hands, to extra sensory perception miracles where peoples inner thoughts are read and revealed. This up close magic is performed by the hour allowing you to choose how much event coverage you need. This is one of the most exciting forms of entertainment in the world today and it will leave people talking about this experience for years to come.
Standup Magic – Interactive & Unforgettable
This type of magic program is perfect for audiences of twenty up to even a few hundred. The show ranges anywhere from 30-60 minutes depending on your desire and needs. Take a look at some examples of where this program works the best.
Family Reunions
Birthday Parties
Block Parties
Private Parties and Events
Virtually Any Event!
This show consists of the world's most amazing sleight of hand magic, along with hilarious comedy, audience involvement, and thought provoking brain busters. It is recommended to provide a platform for the show to allow maximum audience viewing. Professional modern attire, high energy music, and pure charisma from Eddy Ray is what makes this show one that people will consider the most entertaining experience ever. They will thank you for providing them with such an unforgettable time!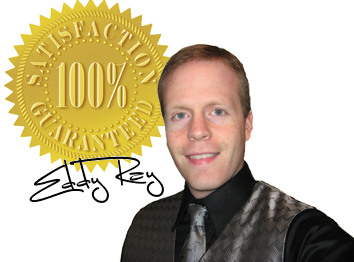 Call Now 1-877-297-7252 or email info@PennsylvaniasBusiestMagician.com for FREE Information & Price Quote. There Is No Obligation!
Contact Now For Pricing Details, To Check Availability, and To Book Eddy Ray!
Call Toll Free: 1-877-297-7252
Email: info@PennsylvaniasBusiestMagician.com
Pennsylvania Magicians 2010